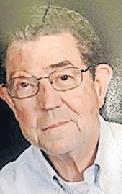 MICHAEL "MICKEY" ANDERSON, SR.
May 19, 1943 - Jan. 19, 2021

OKLAHOMA CITY
On Tuesday, January 19, Michael Lee Anderson, Sr. passed away at the age of 77. The youngest son of Paul W. Anderson, Sr. & Freddie June (Shirley) Anderson, Mickey was born May 19, 1943, in Monroe, Michigan. He spent his early years in Ozark, Arkansas, and then Oklahoma City, where he attended Edgemere Elementary and Old Classen before graduating from Bishop McGuinness High School. He served his country as a Sgt. E-5 in the U.S. Marine Corps in the Vietnam War from 1963-67.
Mickey was a fan of classical guitar, a certified SCUBA diver, a helpful neighbor, a handyman, a self-taught computer repairman, an expert mower of lawns, and a dedicated member of St. Eugene parish.
He is survived by his wife of 40 years, Carol (Pierce) Anderson; his son, Michael (Lynette) and his granddaughter, Amber; his stepdaughter, Jennifer Robinson (Nick Bartkoski); his stepson, Christopher Robinson (Aimee); four step-grandchildren, and his cat, Shelley. He was preceded in death by his father, Paul; his mother, June; brothers, Tommy Anderson and Paul W. Anderson, Jr.; and sister-in-law, Theresa Anderson.
The family will have a private burial, with a funeral Mass at a later date. In lieu of flowers, donations may be made to the American Cancer Society or to the Alzheimer's Association.
To Plant Memorial Trees in memory, please visit our Sympathy Store.
https://obits.oklahoman.com/obituaries/oklahoman/obituary.aspx?pid=197576811