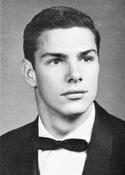 Thomas J. Lynch, January 13, 1944 to March 7, 2013.
This is what I (Jim Telocci) said about Tom at his funeral at Christ The King Church yesterday (Tuesday, March 12, 2013).
Tom Lynch
My first meeting with Tommy was in a fight on the playground of Christ the King grade school. That incident took place about 60 years ago, almost exactly where I am standing now. This was the location of the playground, before this church was built. His older brother, Jerry and I were classmates and friends, but. for some reason, Tommy and I "had it out". That fight, somehow, led to our 60 year friendship.
Another of our "buds" was a fellow named Jay Jenks. We became "as thick" as the Three Musketeers – although many referred to us as the Three Stooges. The Lynches owned radio station KBYE, the first "Black" oriented station in Oklahoma City. So, Tom, Jay and I got to enjoy some of the most famous entertainment of the day by attending shows of Fats Domino, Laverne Baker, Chuck Berry and so on. Many times, we were the only "white kids" in the audience. It was a wonderful lesson in acceptance, of us and for us.
A lot of our friendship involved cars. The first car I remember Tommy having was an old 50 or 51 Chevy. Then Tom got a 55 Thunderbird with a super charger. I have to admit, memories of drag racing on Main Street, and crossing Classen Blvd. at over a hundred mph in Tom's T Bird are etched, indelibly, in my mind. That summer, Tommy, Jay, and I had our first real job – unloading bricks from box cars and then taking them to job sites around the City, and unloading them again. We were making $1.00 an hour – "big time", back then. We had a routine, started at 6AM and worked until 3PM – box cars got too hot in the afternoon hours. Then over to Tom's to jump in the pool, watch the 3 Stooges on TV, then to the Split T for Thetas with cheese. Toward the end of the summer, as a reward for our hard work, was a "road trip" to Hot Springs. By then Tom had a 60 Chevrolet Impala. Tom's dad had connections there, and we had free lodging at the Majestic Hotel. On arrival, the hotel was full of old folks, so we decided to try Bourbon Street in New Orleans instead. Of course, we didn't tell our folks about our new itinerary. We ran out of "steam" and money on the way back. I remember sleeping on the grass on the side of the road at Lake Murray.
Somewhere in that period, Tom drove an "Amphicar", an amphibian auto/boat combination that could be driven on the street, and then straight into Lake Hefner – which we did!
As I mentioned, I was fortunate to be friends with Tommy's older brother Jerry, my classmate, and Tommy, one class below us. Jerry was always "the Big Man on Campus", and kind of overshadowed Tommy. But looking back – I think that gave Tommy room to pursue his own interests and friends.
After graduation, Tom attended OU and Central State University and received a degree in Art! As well as I thought I knew him, that came as a complete surprise.
I was going to OSU, then into the Marine Corp Reserves. So we "lost track" for a few years. When I got off "active duty", we got back together. Corvettes, and dating girls became our avocation (you notice, I didn't say fast cars and fast women, because we're in Church). Another memory stays with me. Tom and I sitting in a nightclub called the Onyx on a Christmas Eve and looking around in wonderment and dismay, at the people there on Christmas Eve, and then looking at each other in amazement and saying – with our Catholic background, What are we doing here? We got up, left and went home.
It was in that period, while working for an oil company, that I met the lady who would become my wife. Again, our marriage took place right here in this church, and Tommy was the Best Man in our wedding 46 years ago.
Over the years, in the process of raising our own family of three daughters, I lost track of Tom again. Once, I ran into him working as a desk clerk at the Hilton hotel. And later, was surprised to find out he had gone to work at the department of Corrections as a juvenile officer. He seemed to be really into that and displayed great enthusiasm for his work.
Somewhere in that period, Tom made some questionable decisions that created a "rift" within his family. He became a "loner" and drew away from everyone. I tried to stay in touch with him and reestablish contact, but with little success.
Even when I was a dumb kid, I remember thinking, Tommy was so good with little kids, nieces and nephews at his folk's house, he's going to make a great father. Unfortunately, he never found the right person and lived most of his adult life in loneliness. With God's grace, I hope he finds "reunion with his family in heaven". We'll miss you Tom.
Jim Telcocci