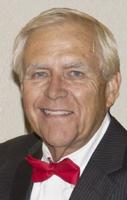 Frank Joseph Shidler, Jr.
October 4, 1944 - November 6, 2021
Frank Joseph Shidler, Jr., known as "Cap," "Cappy," "El Capitan," and "Pappy" by his family and close friends, was born October 4, 1944, in Detroit, Michigan. A majority of Frank's life was lived in Oklahoma and the Oklahoma City area. He was a lifelong Parishioner of Christ The King Catholic Church, attended Christ The King Catholic Grade School, graduated from Bishop McGuinness High School in 1962, and graduated from Oklahoma State University in 1967. At Bishop McGuinness High School, Frank played Center on the Varsity Football Team and was a Student-Manager for the Varsity Basketball Team. While attending Oklahoma State University, Frank "Walked-On" to Coach Phil Cutchin's Football Program as well as joining the Reserve Officer's Training Corps (ROTC). He was married to Patricia Louise McGinley on Aug 10, 1968 and from this union they had three children; John Patrick, Christina Louise, and Frank Joseph Shidler, III. Frank served his Country as a Captain in United States Army and Army Reserves and was Honorably Discharged in 1978. He was a loving father, grandfather, and companion. Frank passed away peacefully at his home on November 6, 2021.

Frank is survived by his loving daughter, Christina Louise (Shidler) Whitlock and her husband Richard Thomas Whitlock of Leesburg, Virginia; along with their children Connor and Ashleigh, Son Frank Joseph Shidler, III (Jay) and his wife Crystal Dawn Shidler of Oklahoma City, Oklahoma; along with their children Bronson and Blair, Companion Judith Anne Simon, Sisters Donna Jean (Shidler) Krutka and husband Larry, Jane Ann (Shidler) Crutchfield and husband Jim; along with several nieces and nephews.

The Shidler Family would like to personally thank all of Frank's care takers over the years and most recently, Quail Ridge Senior Living and BrightStar Care of Edmond/Oklahoma City.

Mass of Christian Burial will be celebrated Saturday, December 11, 2021, at 1:00 PM at Christ the King Catholic Church.

In lieu of flowers, please make contributions to Christ the King Catholic Church. 8005 Dorset Dr, Nichols Hills, Oklahoma 73120.