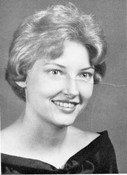 FLORENCE ANNA SPURGEON VAN HORN
October 29, 1943 - December 29, 2021
Florence Anna (Spurgeon) Van Horn, 78, of McAlester, died Wednesday, December 29, 2021 in McAlester.
A Celebration of Life will be held at Shady Grove Missionary Baptist Church, 106 Shady Grove Rd. at 11:00 a.m. Saturday, January 8, 2022.
Florence was born to Alfred Spurgeon and Anna (Hoedebeck) Spurgeon on October 29, 1943 in Oklahoma City.
She married Ben Van Horn on November 17, 1962, in Oklahoma City.
Florence enjoyed sewing, quilting, cooking, and baking. She was the ultimate homemaker. She loved taking care of her family, both related and in her church. Babies always brought a smile to her face. Flo had a God-given talent for design. Each project was especially made for a special individual person. Because of her generous nature, most projects were given away with no thought of reward.
She was preceded in death by her parents: Alfred Spurgeon and Anna (Hoedebeck) Spurgeon, stepmother: Nina (Poage) Spurgeon, brother: Carter Spurgeon, daughter: Jennifer Van Horn, and grandchild: Anthony Barrett.
Florence is survived by her husband: Ben Van Horn; children: Bryan (Holly) Van Horn of Washington, Rebecca (Jack) Barrett of California, and Shirley (Doug) Gale of California; grandchildren: Christopher (Jennifer) Barrett, Kimberly Jeffries, Kevin Barrett, Kelly Barrett, Sebastian (Mary) Van Horn, and Tamzen Van Horn; great-grandchildren: Aden, Joshua, Abigail, and Everly; brothers: Christopher (Michelle) Spurgeon, Joseph (Mary Lou) Spurgeon, Richard Spurgeon, and Allen Spurgeon; along with numerous nieces, nephews, and her church family at Shady Grove Missionary Baptist Church.