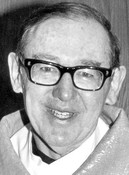 Click here for Father Monahan's famous Sooner Catholic baseball articles.
Rev. David Francis Monahan died on Oct. 28, 2010, in Oklahoma City. Father Monahan was born March 6, 1927, in Tulsa, the second of two children born to Frank Monahan and Evelyn Connolly Monahan. Father Monahan received his education at Marquette High School, Tulsa, St. Louis Preparatory Seminary and Cardinal Glennon College in St. Louis, Mo. (now Kenrick Seminary) and St. John's Home Missions Seminary in Little Rock, Ark. He also received a master's degree from Notre Dame University in 1963. Father Monahan was ordained by the Most Reverend Eugene McGuinness on May 23, 1953, at the Cathedral of Our Lady of Perpetual Help, Oklahoma City.
Following his ordination, Father Monahan served as associate pastor at Saint Francis of Assisi Church in Oklahoma City for five years. In 1958, he became a teacher at Bishop McGuinness Catholic High School where he became principal in 1963, a position he held until 1971 when he was appointed Superintendent of Catholic Schools. Father Monahan served as Superintendent of Catholic Schools until 1974. From 1966 to 1978, Father Monahan was also pastor of Saint Robert Bellarmine Church in Jones, and Saint Theresa Church in Luther. Father Monahan was also the pastor of Our Lady of Fatima, Nicoma Park, from 1973-1974. From 1979 to 1994, he was associate pastor of the Church of the Epiphany of the Lord, Oklahoma City. From 1995 to 1997 he served the parishes of Sacred Heart Church, Mangum, and its mission, Saints Peter and Paul Church, Hobart. From 1997 until his retirement in June 2002, Father Monahan served as pastor of Saint Catherine of Siena Church, Pauls Valley, and Saint Peter Church, Lindsey.
During his long service to the Archdiocese, Father Monahan was also a member of the Priests Council, the Pastoral Board, and has served as a Consultor, Vicar of the West and Director of Communications. Father Monahan is probably best known across the Archdiocese for his work as founding editor of The Sooner Catholic, where he served for 20 years (1974 to 1994). As editor, he traveled throughout the state to find stories and news in the parishes and built the newspaper into an award-winning newspaper. Father Monahan genuinely enjoyed his work as editor and writing his whimsical, folksy column, For the Time Being.

An avid historian, Father Monahan compiled and edited "One Family: One Century," a photographic history of the Catholic Church in Oklahoma from 1875 to 1975, published in 1977. He also wrote "Sacred Heart Church: The Story of the Catholic Community of Greer County Oklahoma" in the mid-1990s. Following the death of Rev. Stanley Rother on July 28, 1981, at the Archdiocesan mission in Santiago Atitlan, Guatemala, Father Monahan published "The Shepherd Cannot Run," a compilation of letters from Father Rother to friends and family. In 1994, Father Monahan took a sabbatical to research and draft a biography of Father Rother. This work became a passion for Father Monahan, who found the personal story of Father Rother to be a great inspiration.

Father Monahan was preceded in death by his parents, his sister, Helen Monahan Perrine Nance, and his nephew, Robert Perrine Jr. He is survived by six nieces and nephews, Susan Perrine McHugh and husband, Tucker of Edmond, Mary Helen Perrine Edwards and husband, Bryce of Hilton Head, S.C., William Perrine of Tulsa, Patrick Perrine and wife, Julie of Seattle, Wash., Michael Perrine and wife, Susan of Longmont, Colo., and Richard Perrine of Tulsa; many grandnieces and grandnephews and many dear friends.

Father Monahan's many lifelong friends remember him as an exemplary priest filled with humility and concern for people. They also remember his great sense of humor and sparkling smile.
These articles from the Sooner Catholic eloquently attest to Father Monahan's sense of humor:
Baseball brings recollections of a singular team of yore: This is the infamous "For The Time Being" column of April 21, 1985, penned by Father Monahan for The Sooner Catholic.
Theory of Tickets: Sooner Catholic "For The Time Being" column of November 21, 1993.