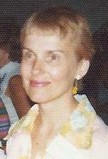 Martha Aaron Weber (Sister Germaine, OSB
December 1, 1931 – June 2, 2010

Martha Aaron Weber, a long time resident of Huntsville, passed away peacefully on June 2, 2010 surrounded by her children and friends. Martha was born in 1931 in Oklahoma City, Oklahoma, to Fredrick Charles and Martha Meis Aaron. A woman of great Christian faith, Catholic devotion, and education, Martha was a Benedictine nun for 17 years before respectfully leaving her order and earning her Master's degree in psychology at Duquesne University in Pittsburgh, Pennsylvania. There she met her beloved husband, James Patrick Weber, and in 1966 they moved to Huntsville. She made a home, raised three children, became active and remained active at St. Thomas the Apostle Catholic Church, wrote and published poetry, cared for the poor, lost and elderly, and had a rewarding career as a psychologist for the Texas Department of Corrections and a licensed family counselor.

Martha was predeceased by her husband as well as her son James Patrick Jr. She is survived by two sisters, Joann Sividon of Sapulpa, Oklahoma and Judy Cassilly of St. Louis, Missouri, as well as her daughter, Judith Andriola and husband Bob, her son, Max and wife Leilani, and her four loving grandchildren, Madeleine, Vincent, Malia, and Margaret. She is also survived by a host of nieces and nephews and a wealth of life-long friendships. Martha was without pretense or concern for materiality and a pillar of guidance and support to the countless people she touched with her grace and unconditional love. She was unbowed to the disease that clouded her mind but never her spirit.

Martha's family gives special thanks to Lynn Longmire, her husband Dennis and Phoenix, and the Band of Angels at the Angel Kissed House: Sol, Silvia, Ale, Elsa, Peggy, Cheril, Lindsey, and Annie, as well as Mandy and de facto Angel Susan Sanders. They each insisted and ensured that Martha passed precisely as she lived her life -- on her terms and with quiet dignity. Dr. T.C. Cole's care will be remembered always.