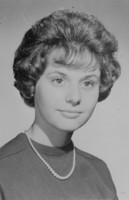 November 5, 1944 to October 30, 2012
Stephanie Hamm's Remembrance of Kathy
It is incredible to believe but just over one year ago, Kathleen Marie Tansey – or Kathy – passed away at home on October 30, 2012. I have pieced the following story together from my conversations with her brother, Rick, and our mutual friend, Suzie Cardoni Mullenix.
I met Kathy very early in our Junior year at McGuinness High School. It may have been on the bus from Tinker AFB to McGuinness because our family was still living on base in temporary quarters for at least the first month of school and we would have taken the base bus to school. I just remember her BIG brown eyes and her soft voice and that she often ended her conversations with a witty comment and a wry smile. She was fun to be with – what I would call an "imp."
Over that first year Kathy and I became close friends with Barbara Huelsman and Suzanne Cardoni (Suzie) from the Midwest City/Dell City area – primarily because we went to Mass at St. Philip Neri Parish. We tooled around in Barbara Huelsman's car (since she was the only one with a driver's license AND a CAR!). We haunted the local Dairy Queen and occasionally would spring for pizza at Sussy's, went to games as members of the Pep Club and just hung out. At one point we were all attracted to the Four Preps who were appearing at an outdoor park venue and we went to the concert. Ever after we all called ourselves the Four Preps and each of us took their names. Suzie has confirmed that Kathy was Bruce, I was Glenn, she was Marv and Barbara was Ed.
Because I thought she was so pretty – I launched a Kathy Tansey for one of our Queen campaigns at school. Kathy was embarrassed but I convinced her that she was a worthy candidate and she went along with me. I honestly can't remember if she won – but I do remember the work we put into the campaign. I also remember that her father retired just before our Senior year and I threw a party at the Tinker AFB pool for her as a send off – just to let her know how much we would miss her. Many of you came and I was very grateful for that.
Kathy's mother, Christine, Kathy and I became even closer my one year at Catholic University. I had no way to get back home for Christmas so I stayed with her family. Kathy and I toured DC and spent some time in the Library of Congress. Her father worked at the Library – and I loved studying there when I could get downtown to do so.
I did not remember that Kathy started nurses training somewhere in Oklahoma but after half a year Suzie said that she returned to Maryland having decided against nursing as a career. Kathy enrolled in Bowie State College and, degreed in Special Education, began to make a name for herself in the Maryland School District where she worked. She rose very high through the ranks and was very well respected. I do remember that she fussed about the system not being flexible enough for all of the challenges that special-ed children and their families face. She was very devoted to her kids! Her brother Rick says she had every degree possible in the field and called her his "smart sister."
My next interface with Kathy was when our son, Garrett, his wife Cherylynn and I were at National Institutes of Health in Bethesda, Maryland, for Garrett's ATG treatments. Kathy and her then beau could not have been nicer to us. Juan lived just blocks from NIH and we would stay with him so that we could walk to the hospital to be with Garrett. It made what was a scary situation for Cherylynn and Garrett just a little easier to take. When I stayed at Juan's Kathy came and met Garrett for the first time – and boy – did they hit it off. Kathy was WONDERFUL with him. They would laugh and crack jokes. It was like they were kindred spirits. After our visits we would always go somewhere for a bite to eat – usually Maryland blue crab cakes - and at the end of dinner she would grab my hand and say, "Do you want tosplit a dessert? My treat!" She looked great and was such a generous support system for all of us!
After Garrett died we corresponded by email infrequently and exchanged Christmas cards – but all of a sudden that all stopped. I never knew why. Some years after that happened Suzie Mullenix found my number and called – because the same thing was happening to her and Kathy and she were VERY close. She finally found Kathy's younger brother, Rick, and spoke with him and I have talked to him since.
Rick told me that Kathy retired from Special Education after 33 years of working in the Prince Georges County school system. During her last five years she worked in a "mainstreaming" program out of one of the high schools. She was responsible for overseeing a program that found work opportunities for students with mental and physical disabilities. At the same time she was experiencing a number of health problems and demonstrating considerable depression. After retiring she continued to see her doctors but kept her problems to herself. Her brother said that several weeks before she died she had called him to say she was going to have surgery. She seemed to indicate she had cancer of some type – but Rick never found out what kind. Their sister, Marie, had died from cancer as well and she was afraid. Apparently she never got to the surgery. She died at home October 30, 2012 and is buried near Davidsonville, Maryland*. You can bet the next time I am in the area for a period of time I am going to lay white roses on her grave.
*Lakemont Memorial Gardens, 900 West Central Avenue, Davidsonville, Maryland 21035. Kathy was interred here on November 12, 2012, and her gravesite is in the Garden of Resurrection, Block 8, Row F, Site #3.
Click on the link below to see some great pictures of Kathy.